LÉON WERTH (1878-1955)
The stroller through art
FROM 19 JUNE TO 19 SEPTEMBER 2010
Inauguration on Friday 18 June 2010 at 6 PM

The itinerary of a committed intellectual, close to the art world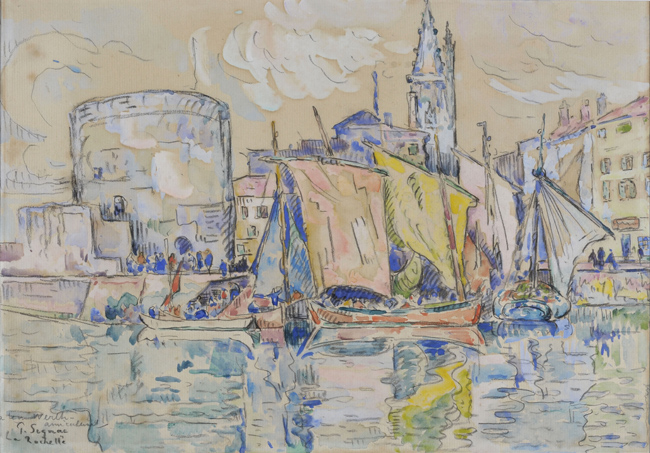 Paul Signac(1863-1935)
La Rochelle
Watercolor and black lead on paper – 28.5 x 40.5 cm
Mention "to Léon Werth, Friendly regards"
Léon Werth Fund © Photography Jean Bernard

The museum of the hospice Saint-Roch and the heritage media library of Issoudun (mediathéque-patrimoine) have been busy for years, drawing up together the inventory of the archives of Sylvaine and Claude Werth, in order to enhance the value of the Léon Werth's family fund (1878-1955). Léon Werth was first of all a man greatly influenced by the birth of Impressionism and his encounter with Monet. But he was also a man of the XXth century, attracted by those artists who opened the road to modern art. He described himself as a «stroller in the world of colors, of forms and of appearances», and remained open to all the unique procedures from Bonnard to Jourdain, from Signac to Matisse. Some one hundred works (paintings, drawings, sculptures and furniture) which Léon Werth referred to are brought together and shown next to various publications and archive items.




Henri de Toulouse-Lautrec (1864-1901)
The Japanese sofa, 1893
Colored lithograph, 80 x 62 cm
Léon Werth Fund © Photography Jean Bernard

The taste for commitment

A committed writer and intellectual, Léon Werth dedicated a large part of his activity between 1910 and 1955 to journalism and art reviews through magazines and journals, such as Les cahiers d'aujourd'hui, and Monde in which he played a determining role. The family's private archives cover this activity and help focus on the value of the relations the writer had with the artists through his articles, his publications and his correspondence, in particular with Pierre Bonnard, Paul Cézanne, Francis Jourdain, Albert Marquet, Henri Matisse, Claude Monet, Paul Signac, Puvis de Chavanne and Maurice de Vlaminck. He is in particular the author of monographs on some of them and the Léon Werth library is an important iconographic fund. Original works and furniture show the writer's taste and the relations he had with his friends, as well as with the intellectual circles of the period and celebrities such as Octave Mirbeau, George Besson, Lucien Febvre and Antoine de Saint-Exupéry who as a homage dedicated his Le Petit Prince  to him.


An influential critic

Through the author's texts that were re-edited by Viviane Hamy, and his historic and political itinerary detailed in the biography by Gilles Heuré, we learn he assumed a position of critic in periodicals that was neither that of an academic, nor that of a civil servant from the fine arts, nor that of an artist. He built his position over various periods, going back to the themes he loved to write about, relying on a critical apparatus made of political, social and aesthetic positions. Consequently we can follow his interest in Marquet and Jourdain since 1910, as well as that in Matisse, or even the architecture of his time. The exhibition focuses on presenting Léon Werth according to the three themes: his art critic and his artistic friendships: Cézanne, Puvis de Chavannes, Bonnard, Marquet, Signac, Monet, Vlaminck. His look on modernity and his contemporaries: Mallet-Stevens, Jourdain, le Corbusier, Puiforcat, Vuitton. And last but not least, his intellectual commitments in particular regarding Asia and colonialism and vis-à-vis of the war (hangings in the cabinet of graphic art).




Kuyu dance doll, aka Kebe-kebe, Congo
Wood, 61 x 18 x 20 cm
Léon Werth Fund © Photography Jean Bernard

The rediscovery of a work

The exhibition will present documents (manuscripts, periodicals, printed matter), as well as works of art and objects that will allow the viewer to grasp the unique, critical and remarkable position the writer had in regard to society, to his friends, and to other intellectuals. As the event cannot present in detail all of Léon Werth's works and positions, it will be accompanied by a scientific publication. The latter will focus on Léon Werth's unpublished works, and will give us the opportunity to revisit the masterpieces of the artists of that period. The project will be the essential event of the editorial year for the Viviane Hamy publishing house, with which the museum of Issoudun will publish this work. It will be their way of celebrating their twentieth anniversary. The aim of this event is to show an author's real work, through more than forty years of publications. The exhibition and the publication, due to the choice of the pieces and their origins, will enhance the innovating character of the rediscovery of a works and a period, as well as the intellectual and historical interest of a unique archive fund.


PUBLICATION:

The catalogue Léon Werth le promeneur d'art is published by éditions Viviane Hamy, Paris. The publication includes art reviews and articles by Léon Werth and essays by Sophie Cazé, Philippe Dagen and Gilles Heuré, as well as the exhibition's iconography. Format 22x 30 cm - 208 pages, 150 illustrations – Price: 39 €.

MUSÉE DE L'HOSPICE SAINT-ROCH
Rue de l'Hospice Saint-Roch
36100 ISSOUDUN

INFORMATION:
Tel: 02 54 21 01 76
E-mail : musee@issoudun.fr

OPENING HOURS:
Mondays and Tuesdays: 2 PM to 7 PM.
Wednesdays to Sundays: 10 AM till noon and 2 PM to 7 PM.

ADMISSION PRICE:
Free entrance

CURATORSHIP:
Mrs Sophie Cazé

PRESS CONTACTS:
• National Press, Tambour Major -Emmanuelle Toubiana
Tel: 01 39 53 71 60 Cell: 06 77 12 54 08
emmanuelle@tambourmajor.com
• Regional Press and communication:
Musée de l'hospice Saint-Roch, Issoudun
Anne Grésy-Aveline Tel: 02 54 21 25 62
museepublic@issoudun.fr
• Editions Viviane Hamy :
Sylvie Pereira Tél : 01 53 17 16 04
sylvie.pereira@viviane-hamy.fr