PHANTOMS AND NIGHTMARES
Contemporary art and collections from 1914-1918
FROM 13 MAY TO 21 AUGUST 2011

Man in face of war and childhood fears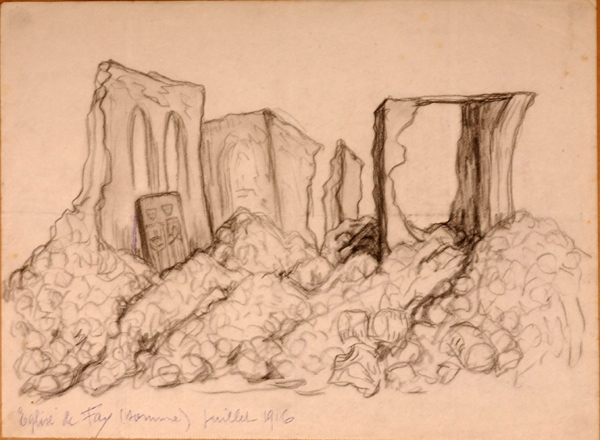 Maurice Le Poitevin,Église de Fay, charcoal drawing, coll. Historial, photo Y.Medmoun

The Historial de la Grande Guerre and the Espace culturel of Beauvais, located in a region that is greatly impacted by the wars, present a contemporary art exhibition, on the theme of ghosts and nightmares, in dialogue with the Historial's 1914-1918 collections. Shown both at Péronne and at Beauvais, the exhibition explores two facets of ghosts and nightmares. In each of the locations, ghostly figures also come to life, like possible messages from the beyond. Presented side by side, the contemporary works and the objects of the collection face one another, and lighten and enrich the subject of the exhibition by their presence


Obsession with war

L'Historial de la Grande Guerre was set up in 1992 at Péronne, on what had been the frontline, where over twenty nations fought during World War I. Its beautiful building in white concrete, designed by architect Henri-Edouard Ciriani, is boxed into the medieval castle, where the famous interview in 1468, between Louis XI, king of France, and Charles the Bold, duke of Burgundy, took place. The H.G.G. is an internationally known institution and a reference, and tells the story of World War I in a different manner. In the context of the exhibition, the Historial develops the matter of ghosts and nightmares in relation with wars, with violence and their memories. The inheritances of the war pop up here, its individual or collective traces, the search for the persons disappeared, and the symbols that bring the past into our present. Each theme and group of contemporary works is confronted with works from the Historial's collection.


Childhood fears

The Espace culturel de Beauvais (Beauvais Cultural Space) is one of the venues created by the Mission Arts plastiques of the city of Beauvais, according to the logic of partnerships and decompartmentalization of sectors, while being open to the new technologies, to the new photography scene and the relations between contemporary art and national patrimony. In this event the visitor plunges into the fears linked to childhood. Filiation and its secrets, anxiety, primary fears, including madness fill the venue. Objects and documents from the collection of the Historial dialogue with contemporary works, with various etchings by Otto Dix, Der Krieg/La Guerre (1924), of which the Historial holds one of the five, existing, original versions in the world.


The ancient and the modern

Among the contemporary artists there are creators of all types who express themselves through video, photography or installations, from Mehdi Abbioui (born in 1981 in Beauvais) to Nobuyoshi Araki (born in 1940 in Tokyo), from Ange Leccia (born in 1952 in Minerviu, Corsica) to Ingrid Wildi (born in 1963 in Santiago de Chile). To dialogue with this current creation there are objects from the collections of the Historial. Among these moving memories, there is the hoof of Mistigri, captain Niel's horse in 1915 and a reliquary with a tip of a humerus (1915), made by Henri Gomain (from Miencourt) for his friend Emile Bulot, from the 12th Regiment of artillery, who was injured at Lorette in November 1914 and had his arm amputated. There is also a Rintintin doll in sky blue thread, meant to protect against the Great Bertha and a marker in sacred earth from the Somme, picked up on the battle grounds of Montdidier and sold for the benefit of the "Gueules cassées" (the soldiers whose faces were partially or totally destroyed)…


PUBLICATION:

• Catalogue published by the Historial de la Grande Guerre. To come out in May 2011. 80 pages, 60 color illustrations.

HISTORIAL DE LA GRANDE GUERRE
BP 20063
80201 PÉRONNE CEDEX

ESPACE CULTUREL DE BEAUVAIS
Rue de Buzanval
60000 BEAUVAIS

INFORMATION:
• Historial de la Grande Guerre
Tél. : 03 22 83 14 18, website : www.historial.org
• Espace culturel de Beauvais
Tél. : 03 44 15 67 00, website : www.beauvais.fr

OPENING HOURS:
• Historial de la Grande Guerre
Every day from 10:00 AM to 6:00 PM, Sundays and holidays included
• Espace culturel de Beauvais
Tuesdays, Thursdays, Fridays: 1:00 to 6: 30 PM
Wednesdays, Saturdays: 9: 30 AM to 12: 30 PM and 1:00 to 6:00 PM
Sundays (July and August): 2: 30 to 5: 00 PM

FREE SHUTTLES to attend the preview on May 13 and 14, registration at info@historial.org
- Paris-Péronne on Saturday 14 and departure at 3.30 pm on the Place du Trocadéro: preview at the Historial de la Grande Guerre at 6 pm.
- Beauvais-Péronne on Friday 13, departure at 3.30 pm from the Historial: preview at the Espace culturel de Beauvais at 6.30 pm
- Péronne-Beauvais on Friday 13, departure at 3.30 pm from the Historial: preview at l'Espace culturel de Beauvais at 6.30 pm

ACCESS :
Historial de la Grande Guerre : Highway A1, 140 km from Paris, 80 km from Lille.
Espace culturel de Beauvais : train Paris gare du Nord station.
ADMISSION PRICE:
• Free admission for the temporary exhibition
• Permanent collection of the Historial: 7.50 € adults, 3.80 € children

CURATOR:
• Contemporary art: Gaïdig Lemarié (Mission Arts plastiques Ville de Beauvais) and Marie-Luz Ceva (Historial)
• Collections 1914-1918: Marie-Pascale Prévost-Bault et Frédérick Hadley (Historial)

PRESS CONTACTS:
• National Press : Agence Véronique Lopez, Tél : 0033 1 47 03 15 87, E-mail : Master@agencelopez.com
• Historial de la Grande Guerre : Lucie Balin, Tél. 0033 3 22 83 14 18, E-mail : press@historial.org
• Espace culturel de Beauvais : Gaïdig Lemarié, in charge of the Department of fine arts, Tél : 03 44 15 67 00, E-mail : glemarie@beauvais.fr