NILS-UDO
NATURE
FROM 30 MAY TO 1st OCTOBER 2011

An artist who turns Nature into pictorial and poetic matter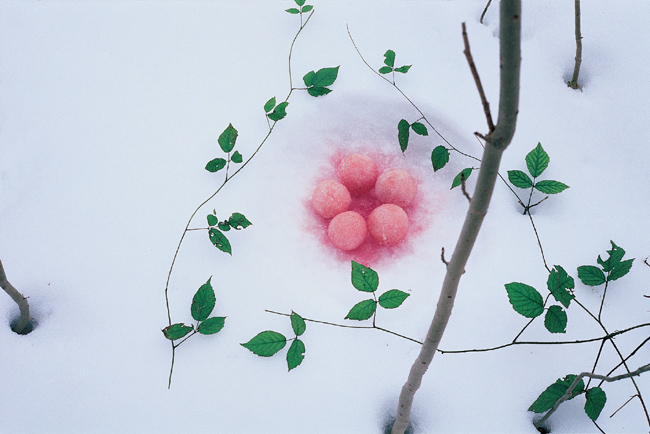 Nils-Udo Winter nest, 1996. Snow balls colored with sapwood berries. Ilfochrome on aluminum, 60 x 100 cm Upper-Bavaria, Germany,© Nils-Udo

Born in Germany in 1937, Nils-Udo started his career as a painter living in Paris for ten years. At the age of 35, he totally changed directions, abandoned painting and became a pioneer in work in (and with) Nature. His installations-plantations focused attention, one of the first ones being a Homage to Gustav Mahler. He was active all over the world, from India to Mexico and from the U.S.A. to Japan, he measured himself to the most diverse settings, from volcanoes on the island of La Réunion to the deserts in Namibia, including urban parks in New Delhi. This retrospective groups together over sixty-five works, created between 1973 and 2010, staged in a very refined way.


Petals and cracks

«Nature is the theme of my life, my art is born from that experience». That is Nils-Udo expresses himself, he who abandoned painting and his workshop in 1972, to translate in a less artificial manner Nature's creative power. He started by renting land from farmers in the surroundings of his village, to plant vast areas with trees, bushes and flowers; he picked berries, displayed petals on the water, in cracks, intertwined branches, recorded the path of a falling leaf, oriented water and light … thus bringing out and from Nature, delicate mineral and vegetable installations, in different dimensions, made up of materials found on the spot. Saved from oblivion, recorded in the memory of a place, these creations became «nests», «altars», «water homes»… by the hand of the artist who then photographs them, at their highest moment of intensity, before returning them to the earth, where they will be eroded by time.


The conscience of our frailty

Nils-Udo is a pioneer in Europe, of art in Nature, and is different from the Land Art artists whom he is abusively assimilated to. This current of contemporary art, born in the USA at the end of the 60s, broke away- as he would do - from the traditional aesthetic values, and carried out large scale projects done outdoors by American artists. Their way of proceeding is exactly the opposite of his, since his outdoor interventions, even when they are monumental, do not entail irreversible metamorphoses. By celebrating Nature as he does with his installations, Nils-Udo forces us not only to rediscover what our eyes and senses no longer perceive, but he also makes us look at ourselves and constantly reminds us of our frailty.




Portrait of the artist, 2000 © photo DPA M. Mächler

Return to painting

The exhibition, divided in two parts, presents first of all photographs in black and white and in color of his vegetable and mineral installations, taken all over the globe, in certain cases in improbable places, a few ink works on paper - executed over a very brief period - and finally his painting which he renewed contact with, passionately, in 2004. Preparatory drawings - extremely rare for this artist - of two projects done for private clients: the Feuillatte champagne vineyards and the domaine of Méréville, enrich the exhibition. A movie allows the visitor to follow Nils-Udo in the construction, in 2005, of his monumental project in Clemson Clay Nest at the Botanical Garden of South Carolina, Clemson University (USA).


PUBLICATION:

Catalogue of the exhibition, coedited by the Ecole nationale supérieure des beaux-arts (bilingual version). Texts by Benoît Decron and Josette Rasle. 22 €.


To see more illustrations, click on VERSION FRANCAISE at the top
of this page

L'ADRESSE MUSÉE DE LA POSTE
34 Boulevard de Vaugirard
75015 PARIS

INFORMATION:
• Tel: 0033 1 42 79 24 24
• Website: www.ladressemuseedelaposte.fr

OPENING HOURS:
• Full rate: 6.50 € (gives access to permanent collections)
• Reduced rate: 5 €
• Free for children under the age of 13, and for mail employees

CURATORSHIP:
Josette Rasle

PRESS CONTACT:
Marie-Anne Teulat
Tel: 01 42 79 23 29
E-mail : marieanneteulat@gmail.com