ERIK DESMAZIERES' IMAGINARY PLACES
Prints and drawings
FROM JUNE 15 TO SEPTEMBER 9 2007

A printer with an abundant imagination, a worthy heir to Piranesi and Callot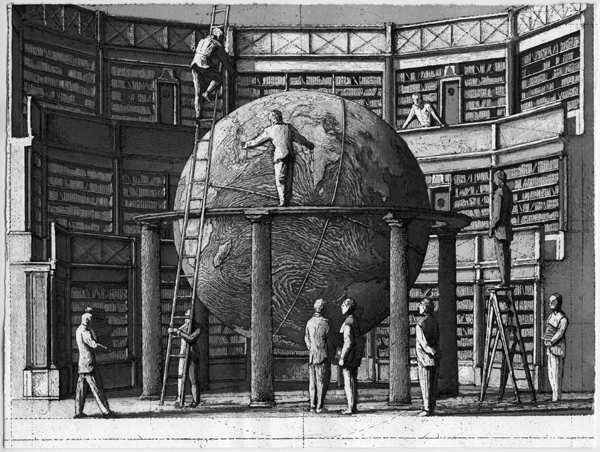 ERIK DESMAZIERES Géography Theater, 2007, eau-forte et aquatinte, 195 x 265 mm © 2007, ProLitteris, Zurich



In the landscape of contemporary prints, Erik Desmazières' prints are remarkable for their unusual iconography, out of our era, capable of fascinating the person who can follow its meanders. Following the recent exhibition on the views of Paris at the Musée Carnavalet in Paris, the 113 works selected by the Musée Jenisch cover some forty years of creation and focus on the places born from his imagination. Strange towns, exotic explorations, cabinets de curiosités -sort of antrum -filled with artificialia and naturalia and other labyrinthine libraries offer many other detours through the main references of Erik Desmazières' universe


Details that require to be read slowly

The Print Cabinet of the canton, proud of its thirty prints by Erik Desmazières kept in its collections, has long nourished the thought of presenting to the public this work that brings together technical virtuosity and dream-like vision. The technique is very classical - the author confesses his admiration for Piranesi, John Martin, Monsù Desiderio as well as Callot - but Erik Desmazières' etchings, by the density of their details and the complexity of their architecture, require a slow reading as well as the concentration that the amateur of prints values so much. The printer likes to quote Flaubert: «By looking at something, it ends up becoming interesting ». His visions that at first seem realist soon take on something strange, in keeping with the tradition of vagaries, in which the topographic reality is combined with elements of fantasy, and mark this work with the seal of melancholy


Study the creative process

By combining his own work with those of public and private collections from the USA, France, Belgium and Switzerland, the Cabinet offers an itinerary through these imaginary worlds aiming on the one hand to better know this exceptional artist, on the margin of current currents, and on the other hand to reveal the slow creative process, inherent to the media of print itself. Not only do the works hung in the museum reveal a work made up of strata and sediments, both in the carvings made in the copper and the complicated spatial constructions or in the obsessive recurrence of certain themes. But the film called Le Paris d'Erik by Bertrand Renaudineau and Gérard Emmanuel da Silva follows the artist at work, showing his process from the preparatory sketch in pencil up to the final unveiling of the print by the printer, including the minutely detailed work on the copper plate.


The discovery of a work of art in seven phases

The exhibition develops Erik Desmazières' imaginary world in seven chapters. The spatial complexity of his Villes (Cities) seems to come straight out of stories by Jules Verne. In his Batailles (Battles), that gather the heritage of Leonardo and Piranesi, he allows himself to destroy edifices reputed for being indestructible. His Explorations go out to discover new worlds, inhabited by gondolas, steamships, piers. Amazing and surprising things such as shells, crabs and fish heads people his Curiosités (Curiosities) while his Chambres des Merveilles (Rooms of Wonders) are muffled refuges, far from the madding crowd. The Bibliothèques (Libraries), in particular that of Babel, so dear to Borges, punctuate his work in a regular manner. Lastly, his Comédies (Comedies) describe with weird figures the faults of our contemporary brothers, in the same manner as Callot or Pietro Longhi.




From Sciences Po to etchings

Born in Morocco in 1948, as the son of a diplomat, Erik Desmazières spent his childhood moving from one place to another, from the Atlas, to Portugal and to France. In 1971, he graduated from the Paris Institute of Political Sciences. In parallel he studied engraving in night courses given by the municipality of Paris. He grew interested in this medium through a work by Piranesi, a fascinating construction of space in black and white. As of 1972, he chose etchings and their inherent technical constraints, as his main means of expression. He quickly built a reputation among a circle of connoisseurs and was rewarded (he received the Grand Prix of the City of Paris in 1978). Erik Desmazières was supported by major print dealers, such as Arsène Bonafous-Murat in Paris, François Ditesheim in Neuchâtel, Andrew Fitch in New York and Christopher Mendez in London. His engraved work represents over 200 sheets, covering nearly forty years of activity. Through major exhibitions such as the one at the Rembrandthuis in Amsterdam in 2004 and at the Musée Carnavalet in Paris in 2006, international renown has come to honour the work of one of the rare engravers to have always lived from his art.


PUBLICATION

Catalogue with a preface by Dominique Radrizzani and essays by Lauren Laz, Alberto Manguel, Maxime Préaud, bilingual French-English, 134 p., 74 illustrations of which 17 in colour, 30 € (or 48 Fr). Leading edition, printed in 100 copies, accompanied by an original print numbered and signed: 300 € (or 500 Fr).

Illustration: ERIK DESMAZIERES Dance of the Devill, 1992, eau-forte, aquatinte et roulette, 345 x 269 mm © 2007, ProLitteris, Zurich

MUSÉE JENISCH - Cabinet cantonal des estampes
Av. de la Gare 2 CH - 1800 Vevey (Switzerland)

INFORMATION:
Tél : 41 (0)21 921 34 01 E-mail : estampes@museejenisch.ch, Site : www.museejenisch.ch

OPENING HOURS:
From 11am to 5.30pm, except on Monday. Also open on August 1st.

ADMISSION FEES:
Full price Fr. 12.- (€ 8) / Seniors Fr. 10.- (€ 7) / students, unemployed Fr. 6.- (€ 4) / free under 18

CURATORSHIP:
Lauren Laz and Fabienne Aellen

PRESS CONTACT:
Illustrations and texts available for the press on www.museejenisch.ch/presse