GEO HAM
Painter of Speed, Master of Posters
FROM NOVEMBER 10 2007 TO MARCH 2 2008, LAVAL (53)

Drawer, war correspondent and adventurer: Laval celebrates one of its sons, one who revolutionized the representation of mechanical sports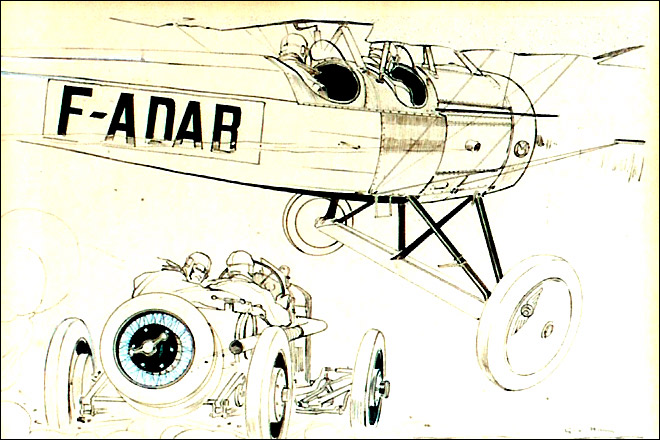 Project of a poster for the Paris' cups, May 1939, gouache, private collection


Georges Hamel, called Géo Ham (1900-1972), is one of the major figures in Laval, together with Douanier Rousseau, Alfred Jarry, Ambroise Paré and Alain Gerbault. His native city, aware of his artistic talent, pays this first great homage to him by presenting his works, accompanied by the documented sources (photographs, reviews) and a varied program of animations (car races, projections of movies, conferences, etc).




A passion for speed

Georges Hamel was born into a family with great feeling for artistic & technical developments. His father was a photographer, his mother had a shop for women's clothes and perfumes. He demonstrated very early in life great ability for imitation drawing. In 1911, a plane piloted by a local politician, busy throwing leaflets, flew over the city and landed. In 1913, a race for motorcycles and cars was organized in Laval. These two events hypnotized young Georges and triggered off in him a passion for speed. He started his first sketches. A t the age of 18, Géo Ham moved to Paris and went to the Ecole nationale des Arts décoratifs, under the guidance of Adrien Bruneau. At the early age of 20, he signed his first front page, that of Omnia (a practical magazine on cars) under the pseudonym of Géo Ham. In 1928, he became a permanent collaborator of the generalist magazine printed in great numbers at the time.
Illustration : The blue helmet, n.d., lithography, Musées de Laval collection


Friendship with Mermoz and Guilllaumet

He was creative and passionate, and exercised his talent in three fields: aviation, motorcycles and automobiles. He proved to be a true adventurer and controlled his subjects perfectly. He was the privileged witness of Mermoz and Saint-Exupéry and accompanied Guillaumet when he crossed the Andes in 1932. In the same spirit, he participated in the rally of Monte-Carlo in 1932 and ran in the 24 Hours of Le Mans in 1934. Very quickly he created a style that would become his signature: the blurred touch and the layout of the composition were unbeatable for giving the impression of speed. The formal properties of his work, allied to his forerunning interest for the mechanical motive and the treatment of speed, give Géo Ham his deserved place in the avant-garde art currents of the XXth century. He thus renewed the subjects of inspiration and their plastic representation, in parallel to the Italian Futurists and the Russian and French avant-garde




A rich activity as an illustrator

While Géo Ham is known for the precision of his lines in mechanical matters, we nevertheless cannot discard his participation in the boom of a certain concern for style in automobiles. In a different aspect of his work, as of 1936 he was a war correspondent for L'Illustration. A strong relationship then developed between his aesthetics and his journalistic commitment. In parallel to these activities, the artist was entrusted with the illustration of various works. Aside from the most prestigious - such as the 24 Heures du Mans (published in 1949), for which he entrusted the texts to Roger Labric - we can also mention Histoire mondiale de l'automobile (World History of the automobile) by Jacques Rousseau in 1958, the Cinquantenaire de l'ACO (Fiftieth Anniversary of the ACO - special issue of the Moteurs-Courses magazine) in 1956 and last but not least Les grands raids d'aviation -The major air raids -by Jacques Mortane published in 1936, Mon tour du monde en avion -My trip around the world in a plane- by Louis Castex in 1943 et Les batailles dans le ciel -Battles in the sky -by Marcel Migeo in 1943.
Illustration : Project of a poster for the Paris' cups, May 1939, gouache, private collection


PUBLICATION

Bilingual Catalogue Géo Ham, Painter of Speed, Master of Billboards, joint publication by Somogy and Siloë, 20 €


To see more illustrations, click on VERSION FRANCAISE at the top of this page

300 MASTERPIECES IN 3 PLACES:
MUSÉE - ÉCOLE DE LA PERRINE
10 Allée Adrien-Bruneau, Laval

INFORMATION:
Tel. 02 43 49 47 85 Site: www.musees.laval.fr

SCOMAM
Rue de l'Ermitage, Laval

ESPACE ALAIN GERBAULT
10 Allée Adrien-Bruneau, Laval

OPENING HOURS:
Tuesday, Wednesday, Thursday, Friday and Sunday from 2pm to 6pm, on Saturday from 10am to 6pm; open in the evening every Friday and Saturday in December.

ADMISSION FEES:
1€ / site

CURATORSHIP:
Xavier Villebrun, director of the museums, patrimony, visuals arts xavier.villebrun@mairie-laval.fr
Cynthia Beaufils, curator attaché, direction of the museums, patrimony, visual arts cynthia.beaufils@mairie-laval.fr

PRESS CONTACT:
Anne Nicolas – 02 43 49 46 45 anne.nicolas@mairie-laval.fr