ROBERT RAUSCHENBERG: GLUTS
FROM OCTOBER 14 2009 TO JANUARY 17 2010

The poetry of objects in Rauschenberg's creation through a little known body of works in metal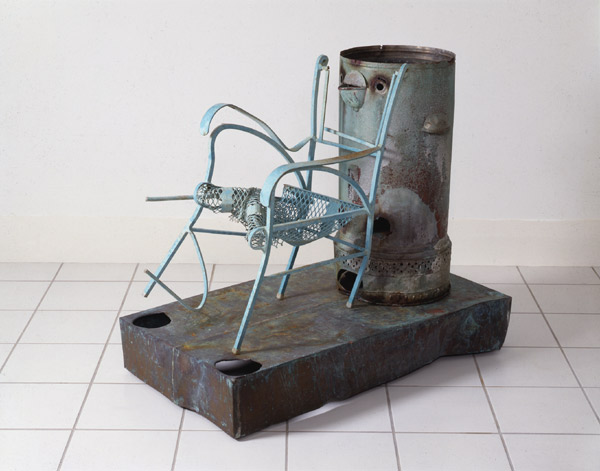 Robert Rauschenberg, Nile Throne Glut, 1992, assembled metal parts on wheels, 100,3 x 68,6 x 129,5 cm, Private Collection
© 2009, Estate of Robert Rauschenberg / licensed by VAGA, New York, NY / ProLitteris, 8033 Zürich

Always one to recycle, Rauschenberg found new uses for what others tossed aside, reinvigorating detritus with a revealing second life. Faced with disparate objects littering his studio, he applied a direct approach to the Gluts (1986–89 and 1991–95), his final series of sculpture. For nearly a decade, Rauschenberg frequented the Gulf Iron and Metal Junkyard outside Fort Myers, Florida, near his home, gathering metal parts from traffic signs, exhaust pipes, radiator grills, metal awnings, and so on, which he incorporated into these poetic, humorous assemblages, where the whole becomes greater than the sum of its parts.


Surprise in Venice

In 1964 Rauschenberg was awarded, at the age of 38, the Grand Prix for Painting at the 32nd Venice Biennale. That event that established his reputation internationally, brought into sharp focus the rivalry between New York and Paris for leadership in the visual arts and interrupted the post-war sequence of prizes awarded to elderly European masters of the pre-war. Alan Solomon, the US Pavilion commissioner, brought to Venice iconic Combines, such as Factum I and II (both 1957),Winter Pool (1959), and Third Time Painting (1961). Susan Davidson relates that Rauschenberg's artistic attention in the 1980s turned toward an exploration of the visual properties of metal. Whether assembling found metal objects or experimenting with his own photographic images screen-printed onto aluminium, stainless steel, bronze, brass, or copper, Rauschenberg sought to capture the reflective, textural, sculptural, and thematic possibilities of the material.




The Gluts, a reflection on consumer society

Rauschenberg's first body of work in this new material was the Gluts. The series was inspired by a visit to Houston on the occasion of "Robert Rauschenberg, Work from Four Series: A Sesquicentennial Exhibition" at the Contemporary Arts Museum. In the mid 1980s, the Texas economy was in the throes of a recession due to a glut (or surplus of supply) in the oil market. Rauschenberg took note of the economic devastation of the region as he collected gas-station signs and deteriorated automotive and industrial parts littering the landscape. Upon his return to his Captiva, Florida, studio, he transformed the scrap-metal detritus into wall reliefs and freestanding sculptures that recalled his earlier Combines.


The soul of abandoned objects

Asked to comment on the meaning of the Gluts, Rauschenberg offered: "It's a time of glut. Greed is rampant. I'm just exposing it, trying to wake people up. I simply want to present people with their ruins […] I think of the Gluts as souvenirs without nostalgia. What they are really meant to do is give people an experience of looking at everything in terms of what its many possibilities might be." Rauschenberg chose these objects not only for their everydayness but also for their formal properties. Individually and collectively, materials such as these are the very foundation of his artistic vocabulary. His empathy for such detritus was visceral. "Well, I have sympathy for abandoned objects, so I always try to rescue them as much as I can."




Illustration: Robert Rauschenberg, Polar Glut, 1987, riveted metal parts,
194,3 x 91,4 x 10,2 cm, Estate of Robert Rauschenberg
© 2009, Estate of Robert Rauschenberg / licensed by VAGA, New York, NY / ProLitteris, 8033 Zürich. Photo: Dorothy Zeidman
Photo: David Heald, courtesy of The Solomon R. Guggenheim Foundation, New York



PUBLICATION:

The catalogue Robert Rauschenberg: Gluts appears in a German edition with a preface by Roland Wetzel, a foreword by Richard Armstrong and Philip Rylands, an introduction by Susan Davidson and David White, and essays by Susan Davidson, Mimi Thompson and Trisha Brown. Guggenheim Publications, New York, 2009, 120 pp., numerous black & white and colour illustrations, CHF 42.-


To see more illustrations, click on VERSION FRANCAISE at the top of this page

MUSEUM TINGUELY
Paul Sacher-Anlage 1 – 4002 BASEL

INFORMATION:
Tel: +41 (0)61 681 93 20 Fax: +41 (0)61 681 93 21 E-mail: infos@tinguely.ch Website : www.tinguely.ch

OPENING HOURS:
Tuesday to Sunday: 11am-7pm. Closed Monday. December 24, 11am–4pm. December 26, 11am–5pm. December 31, 11am–4pm. Closed on January 1, December 25

ENTRANCE FEES:
Adults: CHF 15. Students, trainees, seniors: CHF 10. Free under 16.

CURATORSHIP:
Susan Davidson, curator at the Guggenheim Museum in New York and David White, curator at the Estate of Robert Rauschenberg.

PRESS CONTACT:
Laurentia Leon Tel: +41 (0)61 687 46 08 E-mail: laurentia.leon@roche.com