Accueil
>
LIVE FROM THE 54TH VENICE BIENNALE
LIVE FROM THE 54TH VENICE BIENNALE
Dispatch 1: Setting the Stage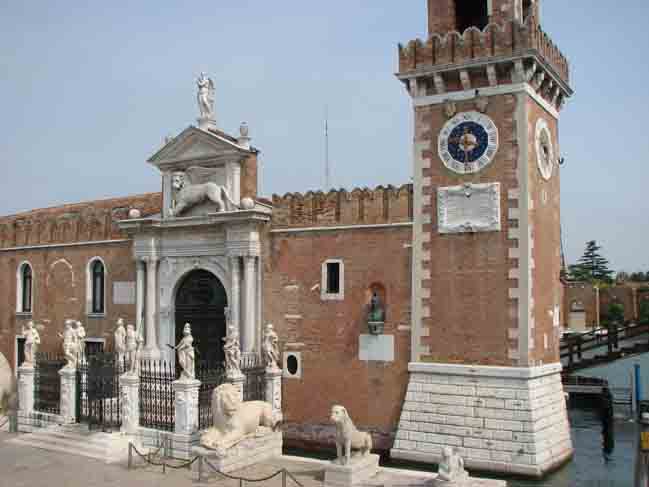 The Arsenale. Photo Marjorie Och.
The art world descends on Venice, Italy next week, as the 54th International Art Exhibition – La Biennale di Venezia begins. The oldest and largest art biennial, the Venice Biennale presents an amazing range of contemporary art in a bewildering number of spaces.

For those not familiar with the structure of the Biennale, there are three main groups of venues. Around 30 countries have permanent national pavilions in the Giardini di Castello, the public gardens at the far eastern end of the city.
Another set of countries rent empty palazzi, deconsecrated churches, and warehouses throughout the city for their "pavilions," as do various private "collateral event" producers.
For the first time, national representation will include Andorra, Bangladesh, Malaysia, Rwanda, and Saudi Arabia, as well as Congo and India, which last participated respectively in 1968 and 1980. This was to have been the Kingdom of Bahrain's debut, but political unrest killed that idea. It will be interesting to see what the artists of Iran, Iraq and Syria make of their moment on the world stage; Egypt has announced it will be represented by Ahmed Bassiouny, a 32 year-old video artist who was killed in the Tahrir Square demonstrations on 28 January.
Lastly, a curator is appointed for each Biennale who established a theme and selects artwork by dozens of artists from around the world; these works are installed in a series of buildings connected with the Arsenale, the historic shipyard that lay at the heart of Venetian power for centuries.
Parkett magazine Editor-in-Chief Bice Curiger is the curator for this year's Biennale, which she has dubbed ILLUMInazioni / ILLUMInations. She has selected 83 artists (or collaboratives), 32 of whom are women -- a modest increase over the 2009 lineup.
Curiger's title, suggesting both light and nations, brings to mind the perennial debate about the appropriateness of structuring the Biennale along national lines in this era of globalization and the international scope of the contemporary art scene. In fact, the debate largely has been sidestepped, with increasing numbers of the "national" pavilions -- this year including Denmark, Poland, and the United States -- showcasing artists from outside their national borders; as well, so many artists live and work in multiple countries these days that the Biennale has become a symbol for cultural cross-fertilization. We'll look at all that more closely in our next dispatch.

Marjorie Och and Preston Thayer for Art-of-the-Day.info