Accueil
>
LIVE FROM THE 54th VENICE BIENNALE
LIVE FROM THE 54th VENICE BIENNALE
Dispatch 6: Summa Venexiana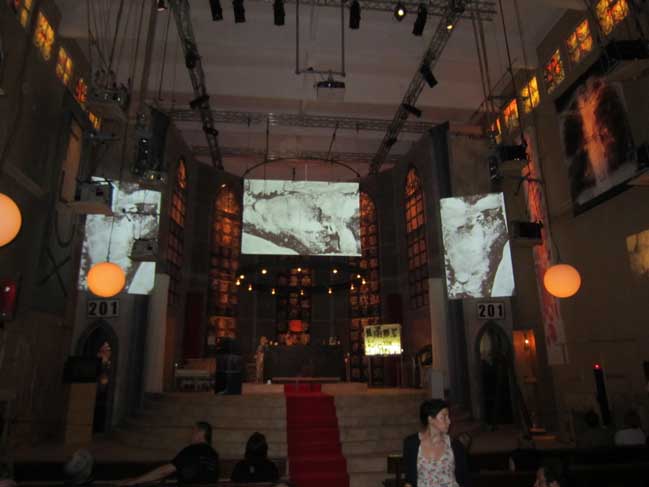 German Pavilion, Homage to Christoph Schlingensief. Photo: Marjorie Och
To begin our last dispatch, a few statistics. There are nearly 90 National Participations and 40 Collateral Events, a 20% increase since 2009. There are many more women artists represented in the national pavilions than last time, tho' only 32 of 82 artists in Curiger's curated show are women -- a little over a third. (Curiger is only the third woman to curate a Biennale, the first two co-curating the 2005 Biennale.)

A jury comprising a number of art world luminaries, including John Waters of Pink Flamingoes fame, gave several awards:

A Golden Lion Award to Germany for best national pavilion --showcasing the late Christoph Schlingensief (photo above),

A Golden Lion to Christian Marclay for his montage film, The Clock
(see our dispatch #5 for discussion and photo),
and a Silver Lion for promising young artist to Haroon Mirza.

The jury also made two special mentions, to the Lithuanian pavilion for its "conceptual elegance," and to Klara Lidén whose work brings "the logic of public intervention into the museum space." (Re Lidén, see photo. Enough said.)
For your correspondents, our favorites include:
The Cuban artist Reynier Leyva Novo, for reminding us that the visual is not the only aesthetic sense. His creation of perfumes based on the flora at famous battlefields brought an immediacy to history that was quite refreshing.
Anastasia Khoroshilova for
Starie Novosti
(Old News), a video installation that confronted the viewer with both historical footage of the terrorist attack on a school in Beslan, Ossetia that killed over 300 in 2004, and images of family members today, to remind us that what is old news to us is forever present for the survivors.
Zimbabwe, for their first pavilion at the Venice Biennale. The paintings by Misheck Masamvu were particularly impressive, combining folk subject matter with sophisticated paint handling.
The United Arab Emirates for pavilion design. Some countries are content to show a single artist's work, others go for the grand production. In this case, a rather plain room in the Arsenale was nicely divided into pools and eddies of space for each of 5 artists -- and credit was given not only to the curator, but the graphic designers and the "scenographer" as well.
We end by addressing another design issue. The iconic freebies of the press preview are cotton tote bags that many of the pavilions give out to hold catalogues and other PR material. A severe case of tote bag envy occurs when someone goes by with a bag you have not seen yet. We thought we were alone in this obsession, but the press release for the Turkish Pavilion made a point of noting that leading industrial designer Konstantin Grcic designed theirs. We fully expect that these will be the locus of intense artistic and nationalistic competition at the 2013 Biennale di Venezia, possibly with a new Golden Lion award for best totebag. If so, we will report on that in two years' time. Ciao!

From Venice, Preston Thayer and Marjorie Och reporting.